Regular price
$710.00 USD
Regular price
Sale price
$710.00 USD
Unit price
per
Sale
Sold out
Powerbox Royal SR2
Description
The PowerBox Royal SR2 once again sets new technical standards, offering a convincing array of features which until now have been the exclusive preserve of professional aviation. P² servo bus, 26 channels, 12-axis gyro, two pairs of regulators and a full-color screen - these are just a few of the technical refinements which the PowerBox Royal SR2 offers the ambitious pilot.


The PowerBox Royal SR2 is housed in a high-quality, extremely compact case with integral aluminum heat-sink. The large cooling area dissipates the heat generated by the four regulators, which are wired in pairs to provide energy for all 26 servos. Both regulator pairs can be set to any of four different voltages. This makes it possible to combine standard 6V servos with high-performance HV types, without additional regulator modules.

For the first time all the data relating to all the model's servos can be monitored, and their parameters adjusted¹ from the transmitter. This development has been made possible by the introduction of our P²-BUS protocol, whose aim was to maintain complete control of all the components in the model. The PowerBox Royal SR2 has four fully independent P²-BUS interfaces, which can be set to two different voltage levels.
These interfaces can be used to connect servos with an integral P²-BUS, or conventional servos with the new P²-ServoBridge. The P²-ServoBridge is an adapter which converts the P²-BUS into a PWM signal for normal servos; it also has an integral infinitely variable electronic fuse.
This has allowed us to implement a bus system in the model which is significantly superior to standard PWM wiring in respect of security and performance.

All data relating to the receivers and power supply system are displayed on the full-color screen, and all settings are available in a carefully structured, bi-lingual menu which is easily understood.
The TFT screen is also housed in a high-quality aluminum case, and is clearly legible even in full sunshine.

Connecting the optional iGyro SAT converts the PowerBox Royal SR2 into a 12-axis gyro which has few equals in terms of functionality. The gyro can be set up to suit even the most complicated of models in just a few minutes. After this, the correct gyro gain is set from the transmitter in a test-flight using a rotary control. A whole series of supplementary Expert settings is available to allow the pilot to fine-tune the gyro effect to suit his unique individual preferences.
Naturally a GPS III sensor can also be connected to the PowerBox Royal SR2. This unit provides automatic gyro gain adjustment in relation to airspeed.
The PowerBox Royal SR2's 26 outputs are provided with an ample power supply, and they can also be assigned individually to various functions. All outputs can be allocated direct and gyro channels as well as door sequencer functions.

The PowerBox Royal SR2 has an automatic servo-matching function which is a new development. This system makes it possible to match a maximum of three servos to each other automatically in just a few seconds using five points. All you have to do is select the servos which are inter-connected mechanically, and start the automatic procedure.
Of course, each output can also be adjusted manually using the servo-matching function and the graphic-based menu.

The final aspect of the system is its pair of integrated door sequencers. In addition to a retractable undercarriage, it is possible - for example - to implement a latched opening canopy control system without additional devices. The first door sequencer can be set up in just a few minutes with the help of a Setup Assistant, and three modes are available.
Additional special settings are equally easy to set up thanks to the on-screen diagrams in which the entire timed sequence can be seen at a glance.

The PowerBox Royal SR2 can be set up and controlled virtually completely² from PowerBox and Jeti transmitters! Telemetry for every aspect of battery and receiver data is available for all supported systems. If a GPS III is connected to the unit, GPS data are also available - in so far as your radio control system supports this.

Features

PowerBox Royal SR2

TFT-Display
SensorSwitch
2 three-core patch-leads, 180 mm
4 retaining screws
4 rubber grommets / brass spacer sleeves
4 brackets/covers
Operating instructions in German and English
Share
View full details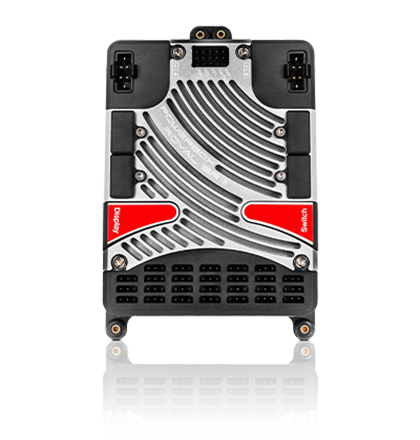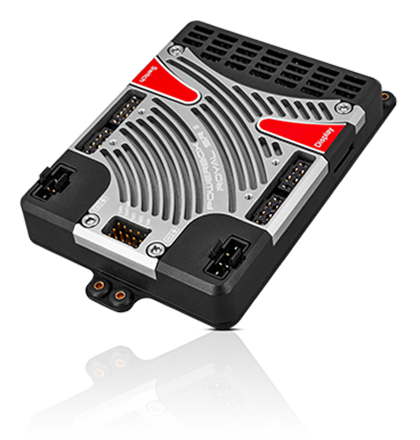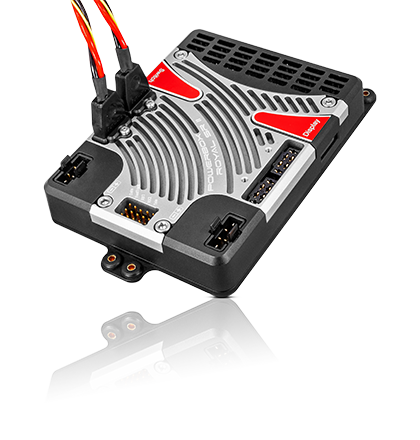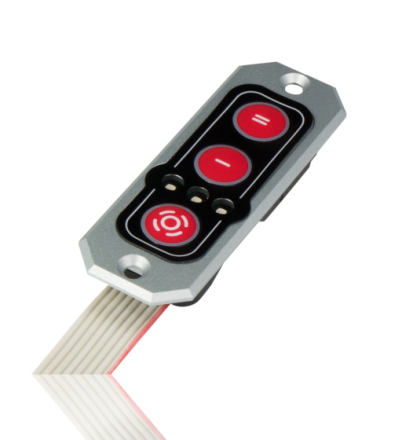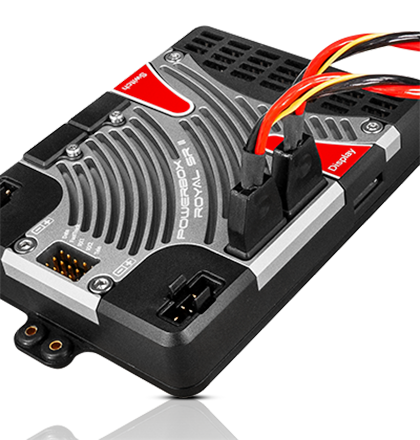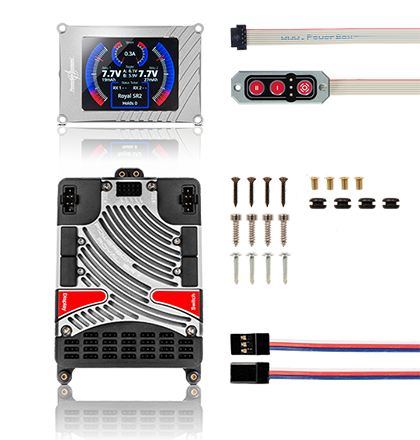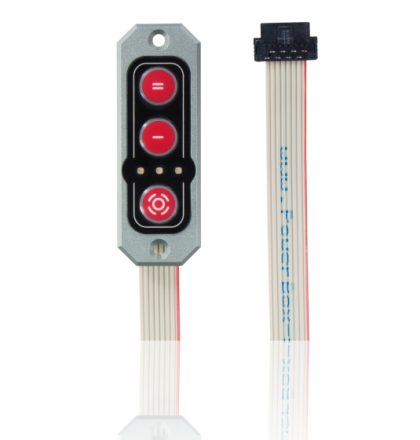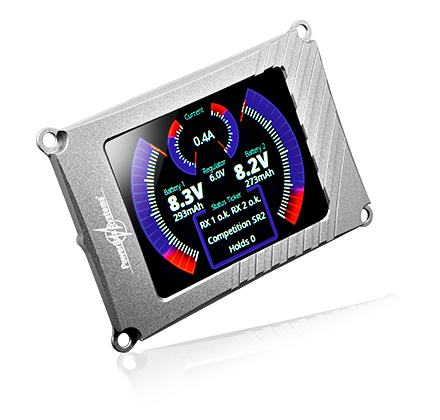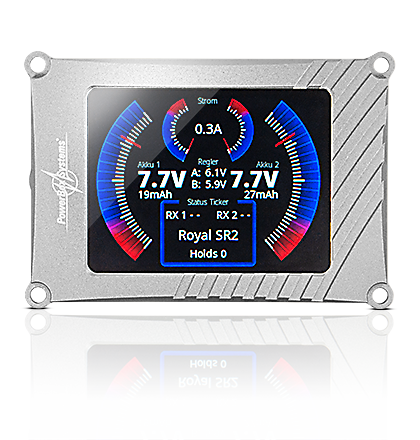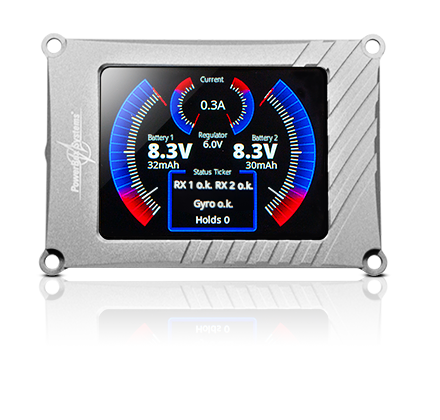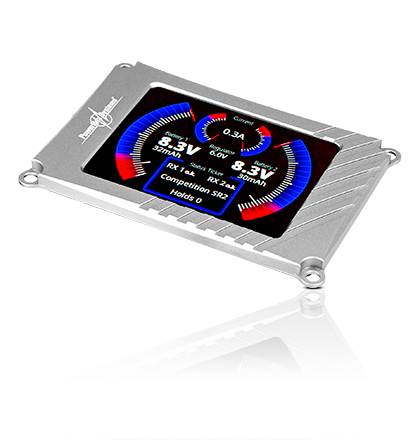 Collapsible content
DETAILS

All composite, carbon fiber reinforced layup. Painted outside the mold with automotive base coat and clear coat. Highly prefinished ARF models requiring very little work to get flying. We also now offer PNP on certain models.
TIPS

Give us a call or email us if you have more questions reagrding our products.
SHIPPING

Shipping available via Air or Sea freight.